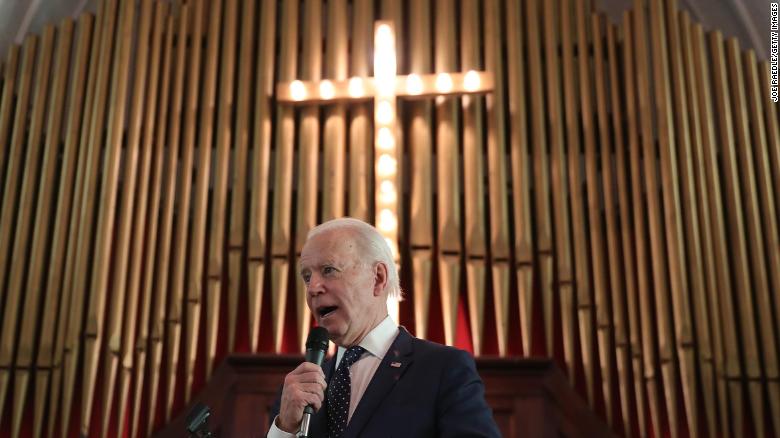 If you are a Christian, take care how you treat and speak about fellow Christians – your brothers and sisters. While I won't cause divisions saying who to vote for, I can present some facts that you should consider and the first is of the two main candidates, which candidate has a solid faith, shows it, embraces it and weaves it into his everyday life??? Which of the candidates attends church regularly?
Of the two candidates I was able to confirm from many sources that Joe Biden is a Catholic (as was John F Kennedy – source) who not only attends church regularly, but makes his faith part of his every day life. CNN refers to Joe Biden as a Man of Faith (see preceding photo – source). Christianity Today reports that he has "an authentic faith" (source).
However, I am unable to say that about the other candidate. The church that he specified as his church said that he was not an active member and how he speaks and acts every day does not seem to match up with a  solid Christian life, but I can't judge one way or the other.
However, I find it inappropriate for Christians to mock and make fun of Joe Biden with wild claims that he doesn't believe the Bible or go to church or other nonsense. I hope that none of you are repeating such untruths about your brother in Christ, though I can see where you might have gotten this misinformation. The Religion News Service reports on claims made on August 6, 2020 by the opposing candidate: "If Biden were to become president, Trump said, there would be "no religion, no anything." He claimed Biden would "hurt the Bible" and "hurt God." Trump asserted that Biden was "against God." " That article (source), written four days later by a White House Staffer who knew and worked with Biden, continues with this:
As a White House staffer, I had the opportunity to see Vice President Biden up close. Trump's assertions could not be more wrong. With these remarks, Trump has demonstrated once again that he doesn't tell the truth and doesn't understand faith, religion's role in American public life, or Joe Biden.
After quite a bit of research, I can provide some facts and background to counter the lies that his opponent is spreading. This is from a September 20, 2020 NPR article (source):
When Joe Biden seeks to inspire or comfort, he turns to his faith. His speeches are woven with references to God, biblical language or the pope.

On Monday, the Democratic presidential nominee spoke to the faith-based anti-poverty group the Poor People's Campaign, and described the United States under President Trump as a "nation in the wilderness."

"All of you remind me of how Scripture describes a calling born out of the wilderness," Biden told the virtual audience. "A calling to serve, not to be served. A calling toward justice, healing, hope — not hate. To speak the good news, and followed by some good deeds. It's not just enough to speak the good news, but good deeds."

This wasn't a one-off religious reference; this is how Biden routinely speaks.
On August 31, The Independent had this to say about Joe Biden (source):
Joe Biden's faith is at the core of who he is; he's lived it with dignity his entire life, and it's been a source of strength and comfort in times of extreme hardship
This is in contrast with the opposing candidate who cleared away peaceful protesters from in front of a church for a photo op holding up the Bible. On June 1, 2020, NPR reported on this incident and comments from the Episcopal bishop with responsibilities for that church (source):
"There was no reaching out, no sense that it would require some sort of authorization before using the church as a backdrop in that way," said the Right Rev. Mariann Edgar Budde, Episcopal bishop of Washington, with oversight responsibilities for the church. When the president held up the Bible, without praying or quoting a verse appropriate for the moment, Budde was further incensed. "It almost looked like a prop," she told NPR. "That is the most sacred text of the Judeo-Christian tradition. It speaks messages of love, of God, love of neighbor. I was outraged that he felt that he had the license to do that, and that he would abuse our sacred symbols and our sacred space in that way."
On August 10, 2020, the Religion News Service published an article about Joe Biden written by a White House staffer who worked with him and knew him well. The article includes this (source):
It's what we Baptists call walking the talk. Biden speaks readily and movingly about his personal faith, including the duty to love one's neighbor. But even more importantly, he lives out his faith on a daily basis. Biden is also a regular churchgoer. Even when Vice President Biden was on the road during the Obama-Biden administration, he would quietly find a church to attend. His focus was on worshipping, not on being seen doing so.
Conclusion: you may choose who you wish to vote for, but if you wish to vote for a solid Christian, I hope that what few references I have listed mean something to you!
Also Read these great articles FROM THE OTHER SIDE!
Groups:
References and Sources:
NPR Article (Sept 20 2020): https://www.npr.org/2020/09/20/913667325/how-joe-bidens-faith-shapes-his-politics 
Religion News Service article (August 10 2020): https://religionnews.com/2020/08/10/trump-couldnt-be-more-wrong-about-bidens-faith/
Wikipedia article on Presidents of the United States Religion: https://en.wikipedia.org/wiki/Religious_affiliations_of_presidents_of_the_United_States 
The Independent article (August 31, 2020): https://www.independent.co.uk/news/world/americas/us-election/biden-faith-leaders-christian-muslim-jewish-sikh-a9696786.html 
NPR article (June 1, 2020): https://www.npr.org/2020/06/01/867532070/trumps-unannounced-church-visit-angers-church-officials 
CNN article (July 18, 2020): https://www.cnn.com/2020/07/18/politics/biden-faith-evangelicals/index.html 
Christianity Today article (August 17, 2020): https://www.christianitytoday.com/news/2020/august/joe-biden-catholic-evangelical-faith-vote-2020-convention.html 
I personally collected sources and wrote this article and grant permission to copy or use any of this for your own articles or posts – Len Lindsay (God Is In Our Midst)